Environment
MURRAY & ROBERTS' POSITION ON CLIMATE CHANGE
Murray & Roberts is a multinational provider of specialised engineering and construction services to the metals, minerals, energy and water market sectors, as well as to other selected high-growth markets. The Group's focus on the natural resources market sector is informed by long-term demand drivers such as global population growth, rapid urbanisation and economic growth.
We recognise that climate change poses significant risks to the natural ecosystem and sustainability of business. The world's growing demand for energy is likely to continue to increase greenhouse gas emissions and exacerbate climate change, unless environmentally benign energy alternatives are adopted on a large scale. We support the Paris Agreement on climate change and its long-term goal to limit the global average temperature increase which requires a collaborative approach amongst all stakeholders, including policy makers and business.
Whilst climate change presents a risk to business and society, it also presents opportunities. Our response to this challenge is guided by our ultimate objective of sustainable value creation. We recognise the fact that although our operations have an inherently low carbon footprint, opportunities lie in our ability to assist our clients in transitioning their operations to a low carbon future. Our aim is to be part of the solution, which we believe can only be delivered through a collective effort.
We commit to:
Continue monitoring and reducing our carbon footprint.
Evaluate our participation in new projects against the environmental imperative to mitigate climate change impacts.
Collaborate with clients and supply chains to find innovative solutions to reduce carbon emissions in the market sectors in which we operate.
Grow our service offering to the renewable energy sector to assist in the transitioning to a low carbon future.
CLIMATE CHANGE AND EMISSIONS
We have a well-established baseline for Scope 1 and Scope 2 emissions extending back to FY2015, which we consider to be our baseline year (FY2015: 73 940 tCO2e). In FY2021 we conducted a Scope 3 carbon assessment, identifying the categories that are most material and feasible for our reporting. These include purchased primary construction and mining goods (cement, steel, electrical cabling and other goods), fuel and energy-related activities, third-party waste disposal, employee commuting and business travel.
Although revenue remained about the same in FY2020 (relative to FY2019), our emissions decreased by 14%. This was a directly result of the impact of COVID-19 related operational restrictions and lockdowns. We anticipate COVID-19 to continue impacting operational business activities as a result of the emergence of periodic COVID-19 'waves' of infections. In addition, our pipeline indicates that no major new projects are anticipated to break ground in FY2021. Accordingly, we anticipate our FY2021 emissions to remain consistent with FY2020 levels at around 11 000 tCO2e. From FY2022, we anticipate emissions to return to the 'pre-COVID 19' FY2019 levels at around 12 800 tCO2e. This forecast is based on the assumption that our operating jurisdictions becoming more resilient to COVID-19 through vaccinations and improved infection management, as well as an anticipated slight uptick in new projects in pipeline. From FY2023 to FY2025 (in the next five years), we anticipate a 10% increase in emissions as a result of our current growth strategy via acquisitions, and a solid medium-term pipeline of opportunities. Altogether, this anticipated increase in business activities is anticipated to result in an estimated 15% increase in emissions, above the pre-COVID 19 emission levels over the next five years, i.e. +/- 14 720 tCO2e.
ENERGY
Our energy consumption has remained relatively consistent with the prior year given that there has not been any material change to the Group's portfolio. In FY22 we will improve our energy consumption data collection to enable the disaggregation of electricity consumption by power source e.g. renewable power or fossil fuel grid power
WASTE AND HAZARDOUS MATERIALS
Our initiatives to minimise waste generation and disposal include improved engineering, recycling and reuse of materials and finding alternative uses for waste materials. Our ISO 14001 certified environmental management systems, including RUC Cementation Mining's equivalent system, include waste and hazardous material management.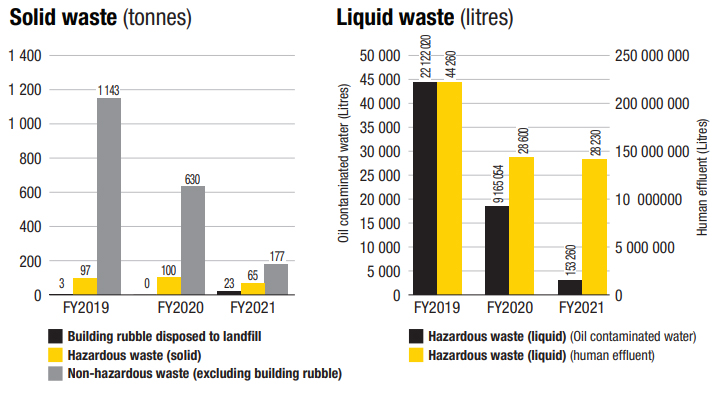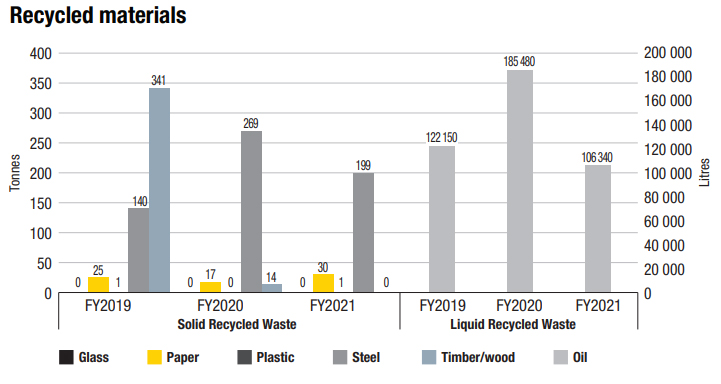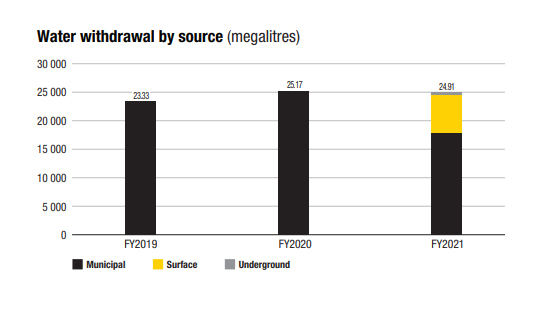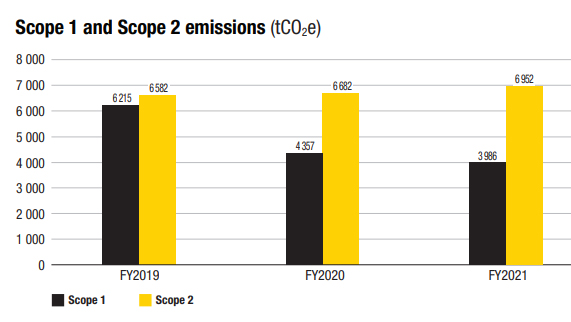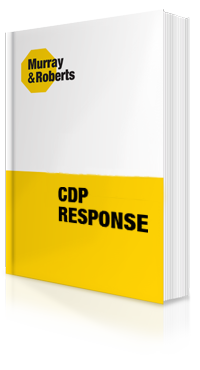 TIP-OFFS ANONYMOUS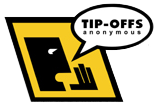 In this section