Environment
CLIMATE CHANGE
Our ability to design, construct, maintain and operate infrastructure that supports environmental improvement enables us support the transition to a lower-carbon economy.
Many of our projects support the energy transition away from fossil fuels and toward renewables. The ERI and PIW business platforms in particular are well positioned to offer our clients low carbon and water efficiency solutions. These platforms are seeing increased opportunities in this growing industry.
Our participation in fossil fuel projects is carefully considered. Two years ago, we took the decision to not participate in thermal coal projects unless the projects were in South Africa, which needs its coal-fired power stations to sustain socioeconomic development. We will continue to support maintenance work on Eskom's1 ageing coal-based power stations and thermal coal projects for clients who supply coal to Eskom. We will also continue to participate in metallurgical coal projects until sustainable alternatives for large scale steel production are available.
We work together with our clients, business partners and suppliers to deliver low-carbon solutions. We engage with our suppliers to collaborate on opportunities to reduce the carbon footprint of our supply chain, and we encourage them to provide emissions-related information on their products and services to improve our understanding of upstream carbon emissions and the associated risk.
In addition to our broader contribution, we are working to reduce our own emissions. The first step is to identify the material sources of carbon emissions in our value chain. From there, we can plan initiatives and set targets on a project basis.
Climate Change Position Statement
Our Climate Change Position Statement commits us to:
Continue monitoring and reducing our carbon footprint.
Evaluate projects in terms of climate change impacts
Ensure that our projects comply with relevant environmental specifications, governmental authorisations, and local and international environmental and social standards.
Collaborate with clients and stakeholders in the supply chain to find innovative low-carbon solutions.
Grow our service offering in the renewable energy sector to mitigate climate change risks.
Our direct environmental impact
The key sources of carbon emissions from our business activities are purchased electricity and fuel (diesel and petrol) used for mobile equipment and transportation. We encourage our businesses to investigate and implement energy saving opportunities both in their day-to-day operations and in our service offerings.
Water is an important resource for our business activities, particularly for facilities and projects located in waterconstrained regions such as Western Australia and the SADC region. Our water management standard guides our approach to water supply, conservation and discharge. Our businesses continued to implement water conservation and recycling initiatives during FY2022. Where required by clients' water use licences, the quality of water discharge is measured by third-party specialists.
Water withdrawal and discharge is monitored per source, and all facilities and projects across the Group are required to submit a volumetric report on water withdrawals and water discharges every month.
CLIMATE CHANGE AND EMISSIONS
We have a well-established baseline for Scope 1 and Scope 2 emissions extending back to FY2015, which we consider to be our baseline year (FY2015: 73 940 tCO2e). In FY2021 we conducted a Scope 3 carbon assessment, identifying the categories that are most material and feasible for our reporting. These include purchased primary construction and mining goods (cement, steel, electrical cabling and other goods), fuel and energy-related activities, third-party waste disposal, employee commuting and business travel.
Although our revenue and orderbook has shown incremental gains over the past three years, our revenue-based emission intensity has incrementally declined i.e. Murray & Roberts' emission intensity is inversely related to its revenue. More specifically, the group revenue and orderbook has increased by 9% and 30% respectively since FY2019 while our total scope 1 and 2 emissions have declined by 15% over the same period. Our emission profile has been relatively consistent since FY2020 given the impact of COVID-19 related operational restrictions and lockdowns. However, in FY2022 we anticipate our emissions to increase slightly as our operating jurisdictions becoming more resilient to COVID-19 through vaccinations and improved infection management, as well as an anticipated slight uptick in new projects in pipeline.
In the medium to long term (post FY2022) the group will continue seeking opportunities for organic and acquisition growth. In the reporting year we achieved a record-high quality order book which reflects both the Group's strategic progress over many years, and the pressing global development needs driving major opportunities in our international markets. We expect this trend to continue in the medium term as we begin to emerge from the worst effects of the COVID-19 crisis.
Given the record order book in FY2021, the positive market outlooks of our ERI and Mining platforms, and the implementation of our Emission Pathway project in FY2023, we estimate that our emissions will increase by approximately 14% over the next five years (relative to FY2021), i.e. approximately + 1 532 tCO2e.
ENERGY
In FY2022 we initiated an Emissions and Water Pathway development project to identify where material and effective opportunities for implementing targets are in our Group. The objective of the emission and water pathway project is to establish targets at the site, project, business and/or group level (as appropriate), and to establish a new baseline.
To date we have undertaken group-wide engagement to improve the understanding of emissions and energy consumption patterns within our platforms and each business, while concurrently updating our reporting system to enable more accurate reporting of activity data and calculation of emissions data. The latter is particularly important for sites that have recently started generating on-site renewable energy or which consume low carbon grid electricity. The Project will be completed in FY2023, hence emission targets will be set within the next 2 years.
We recognise that the geographic, pipeline, technology and operational diversity between the businesses renders group-wide target setting to be complex. In recognition of this complexity, the plans to implement the emission targets will consider the business activities associated with the emissions that are in the targets scope. In instances where the emissions are a result of electricity consumption, alternative renewable or low carbon electricity alternatives will be considered for both grid and on-sitegenerated electricity consumption.
Metrics for electricity, fuel and water consumption, and waste disposal are monitored and measured monthly. Enhanced accuracy of data, together with a record order book and a significant increase in our business activities, has resulted in increases in energy and water consumption as well as emissions relative to the prior year. In FY2022, we streamlined our reporting on electricity consumption, disaggregating consumption by power source (grid electricity or self-generated renewable energy) and also updated country-specific grid emission factors
WASTE AND HAZARDOUS MATERIALS
Our initiatives to minimise waste generation and disposal include improved engineering, recycling and reuse of materials and finding alternative uses for waste materials. Our ISO 14001 certified environmental management systems, including RUC Cementation Mining's equivalent system, include waste and hazardous material management.
SOLID WASTE AND LIQUID WASTE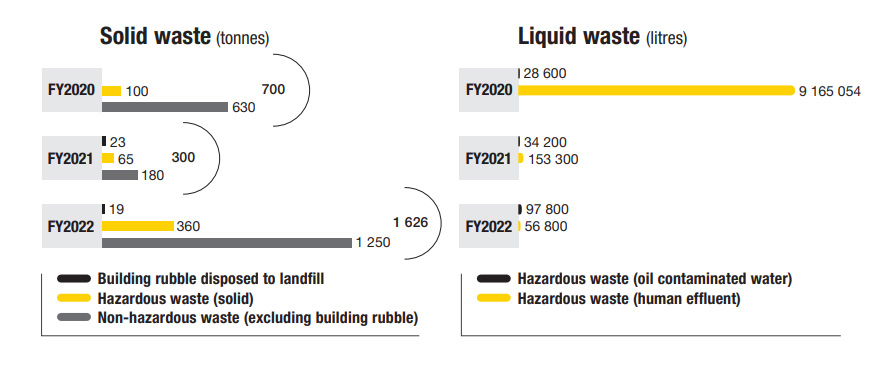 RECYCLED MATERIALS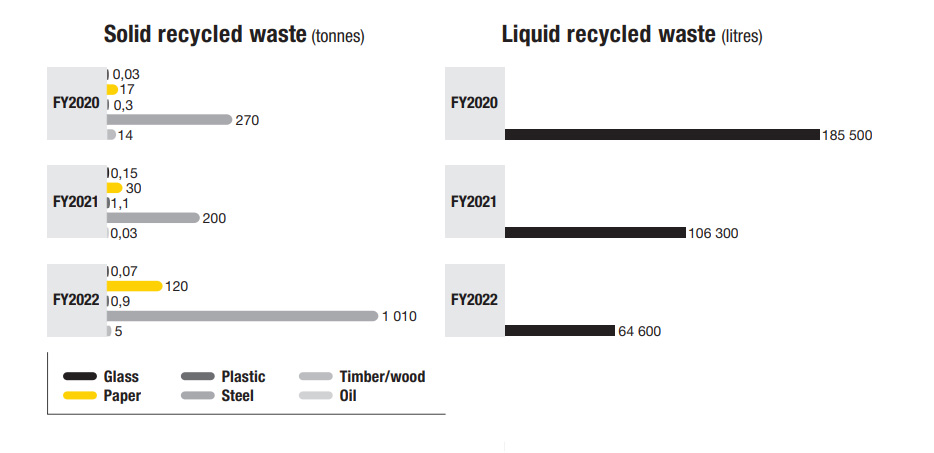 WATER WITHDRAWAL BY SOURCE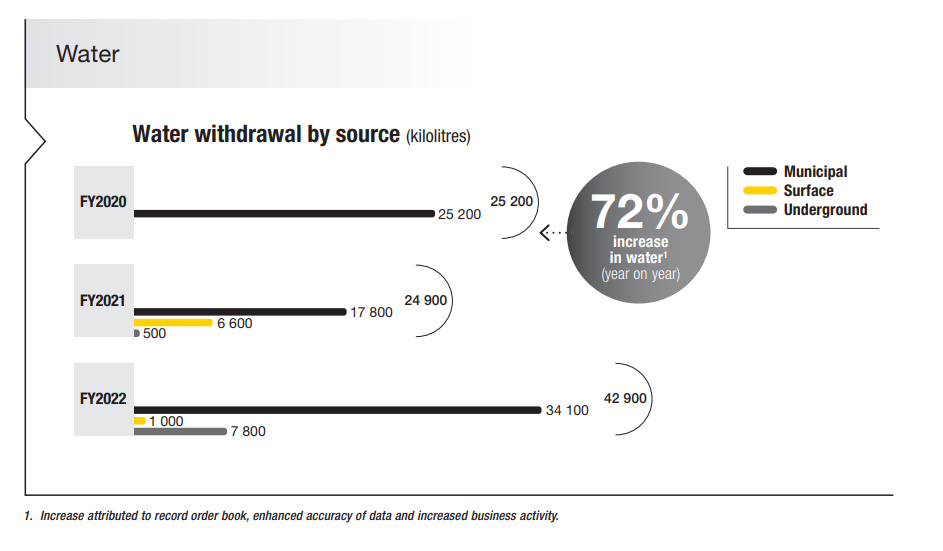 CARBON FOOTPRINT
The majority of our Scope 3 emissions are derived from upstream purchased goods and services, with the key contributors being purchased cement, concrete and steel. Our Scope 3 emissions increased by approximately 93% year on year given our improved coverage and reporting, which now includes upstream transportation, purchased capital goods and increased data on Scope 3 emissions categories.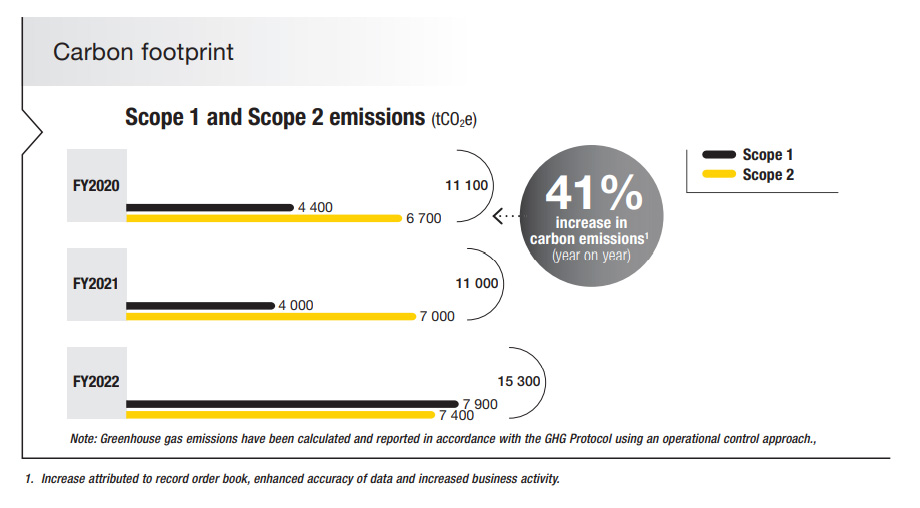 SCOPE 3 EMISSIONS BY EMISSIONS CATEGORY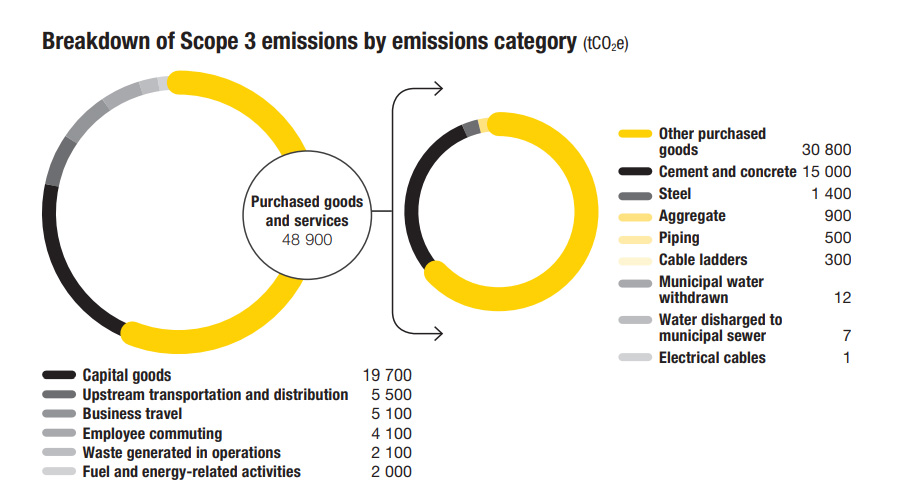 WASTE
Compared to FY2021, solid hazardous and non-hazardous waste increased by 590% and 690% respectively, and solid recycled waste increased by 397%. The increases are mainly attributable to increased business activity in the ERI platform. Oil contaminated water increased by 186%, the biggest contributor was the safe disposal of oil from vehicles and machinery at the Murray & Roberts Training Academy.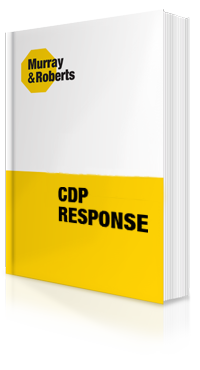 TIP-OFFS ANONYMOUS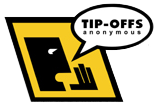 In this section