Underground Mining
The Underground Mining platform's geographic footprint covers six continents and its service offering spans the project life cycle, including feasibility studies, specialist engineering, vertical and decline shaft construction, mine development, specialist mining services such as raise boring and grouting, and contract mining.
The businesses within this platform are:
Cementation AG – Salt Lake City, USA
Cementation Canada – North Bay, Canada
Cementation USA – Salt Lake City, USA
Merit Consultants International – Vancouver, Canada
Murray & Roberts Cementation – Johannesburg, South Africa
RUC Cementation Mining – Perth, Australia
Terra Nova Technologies – California, USA
The platform has a significant presence in most commodities and is well positioned to provide services across the project life cycle to its global clients. There is substantial scope for organic growth in the jurisdictions in which the platform operates, as mining companies continue with infrastructure replacement (brownfields) spend to sustain their operations and new (greenfields) investment to meet future demand.
Recently completed and current projects include the construction or rehabilitation of 20 shafts and more than 30 decline projects in Australia, Canada, Indonesia, Mongolia, South Africa, USA and Zambia. The platform deploys more than 50 large-diameter raise and blind-hole boring machines globally, one of the largest fleets of its kind in the world. It has also sunk the deepest single-lift shafts in South Africa (South Deep: 3 000m) and the USA (Resolution: 2 100m), as well as the deepest secondary shafts in Canada (Kidd: 3 014m below surface) and the USA (Hecla Lucky Friday: 2 922m below surface).
MIKE DA COSTA

Platform Chief Executive Officer

Platform Chief Executive Officer

Mike joined the Group and was appointed to the executive committee in 2018. He is the executive director responsible for the Underground Mining business platform.

Responsibilities:

Cementation AG | Cementation Canada & USA | Merit Consultants International | Murray & Roberts Cementation | RUC Cementation Mining

Board Committee Participation:

Health, safety & environment
MARKETING BROCHURE
PLATFORM COMPANIES
PLATFORM COMPANIES
MARKETING BROCHURE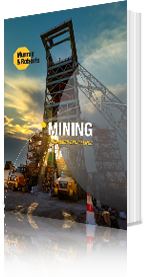 RELATED LINKS