Overview
OUR GROUP SUSTAINABILITY FRAMEWORK GUIDES OUR APPROACH TO SUSTAINABLE PERFORMANCE. IT SETS OUT OUR ASPIRATION TO OPERATE IN AN ETHICAL AND SUSTAINABLE WAY BY:
Considering the views and concerns of our stakeholders in our strategic and operational decision-making;
Understanding and mitigating our risks in relation to our opportunities;
Applying best practice corporate governance beyond minimum requirements;
Operating world-class businesses able to create and sustain value for shareholders, clients, employees, partners and suppliers, as well as the countries and communities in which we operate; and
Managing all our impacts according to the principle of Zero Harm.
The outcome of these inter-related objectives is integrated reporting, which links back to our stakeholders and completes the cycle of accountability and inclusivity that ultimately underpins our sustainability.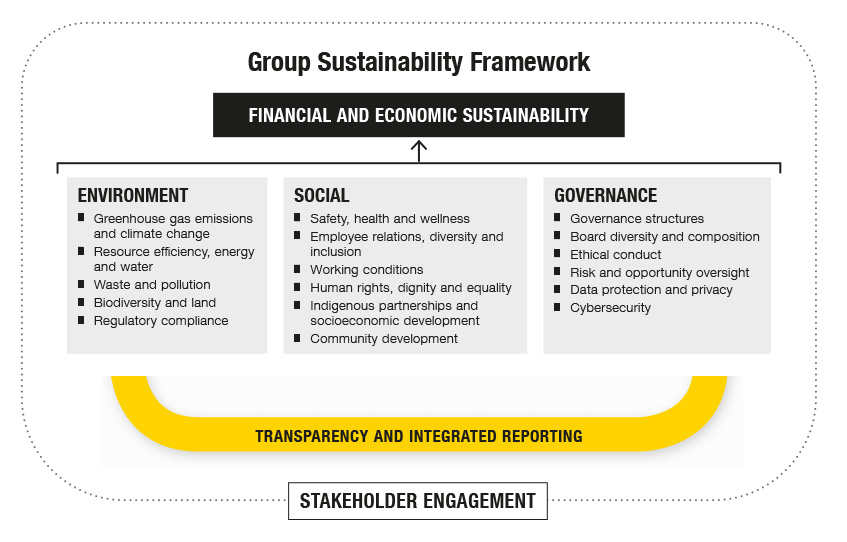 The JSE has partnered with FTSE Russell to promote corporate sustainability practices and launched the FTSE/JSE Responsible Investment Index series in October 2015. These indices replace the JSE SRI Index of which the Group was a participant. The Group's current market capitalisation precludes us from a rating on the Responsible Index series.