Oil & Gas
The Oil & Gas platforms' extensive service offering spans the full asset life cycle, including specialist engineering, construction & EPC, commissioning, and operations & maintenance. Services are provided on new build facilities (greenfields) and operating facilities (brownfields).
In response to challenging oil and gas market conditions, the platform has diversified into complementary growth markets such as Australia's metals & minerals and infrastructure markets, which mitigates the impact of low activity and high competition in its core oil and gas market.
Although activity remains subdued, LNG capital expenditure is expected to accelerate in Australia and North America to meet the forecast demand as from 2021.
The businesses within this platform are:
Booth Welsh – Ayrshire, Scotland
CH-IV – Houston, USA
Clough – Perth, Australia
Clough Enercore – Calgary, Canada
Clough Murray & Roberts – Cape Town, South Africa
e2o – Adelaide, Australia
The platform's strategy is focused on:
Establishing strong businesses in complementary growth markets (Australia's metals & minerals and infrastructure markets)
Maintaining current strong businesses in core markets
Growing international businesses in core markets
The business has two regional operating divisions:
Australia & Asia Pacific Operations; and
Americas & EMEA Operations.
The two regional operating divisions focus on delivering specialised EPC services to their respective regions. The operating divisions also leverage Clough's client network in Australia to develop and maintain relationships beyond Australia and support the expansion of services across the project life cycle.
The platform is expanding its international footprint which will enable it to extend its construction services to the growing oil and gas sector in the USA.
PETER BENNETT

Platform Chief Executive Officer

Platform Chief Executive Officer

Peter Bennett was appointed as CEO of Clough on 1 February 2016, bringing 26 years' international experience in the oil and gas, LNG and infrastructure contracting service sector to the organisation. His experience spans contracting business process, operational and corporate leadership. Peter is the executive director responsible for the Oil & Gas business platform

Responsibilities:

Booth Welsh | CH-IV | Clough | e2o | CMR Marine

Board Committee Participation:

Health, safety & environment
MARKETING BROCHURE
PLATFORM COMPANIES
PLATFORM COMPANIES
MARKETING BROCHURE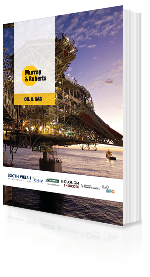 RELATED LINKS