Community Development
To remain relevant in our many jurisdictions of operation, we strive to understand local norms so that we are able to address and manage the impact of local factors on project delivery.
Our Group diversity policy commits each business in the Group to supporting programmes that address socioeconomic challenges in their host communities. This includes commercial partnerships with local businesses in various geographies, preferential and targeted procurement, enterprise development and the development of communities located near our projects, as well as transformation in South Africa.
Murray & Roberts creates value for societies through our business activities, which provide employment and develop infrastructure which has considerable positive impact on socioeconomic development. The scale and significance of the projects facilitated by Murray & Roberts in its markets over more than 110 years is testimony to our direct economic contribution.
Effective partnerships and continued engagement with members of host communities and employees ensure that our initiatives and solutions respond appropriately to their needs and expectations. The Murray & Roberts Community Development Programme ("CDP") prioritises education and skills development, mainly in host communities. The corporate office in South Africa manages three flagship community development initiatives and many of the Group's businesses have dedicated corporate social investment programmes.
Stringent governance measures are in place to ensure that our investment and donations align to our Values, brand and community development strategy and genuinely benefit disadvantaged communities. The CDP committee approves funding for the corporate-led initiatives and monitors Corporate Social Investment ("CSI") spend at a platform level. The Murray & Roberts Limited Board and social and ethics committee oversee strategy execution and expenditure.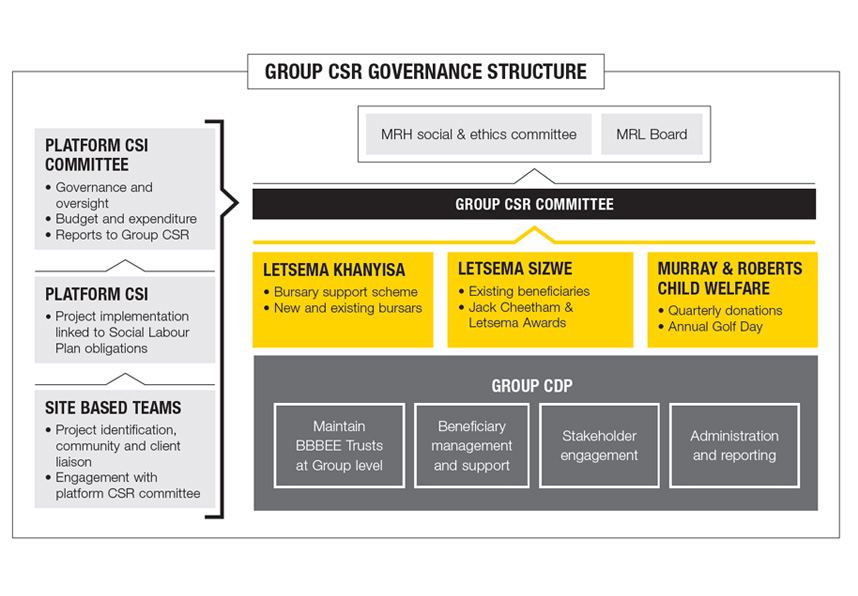 For more information on our Community Development, see the online Sustainability Report
Contact Details
+27 11 456 6336
cdp@murrob.com