Transformation Local Economic Development
As a multinational organisation, we are sensitive to and strive to effectively respond to the needs and expectations of our stakeholders in all our geographic regions. Our socioeconomic contributions support the development of economies and the communities located near our projects, and in South Africa this includes preferential and targeted procurement, and enterprise and community skills development.
Broad-Based Black Econimic Empowerment
We support South Africa's BBBEE programme which promotes the social and economic development of previously disadvantaged communities and individuals. Our South African operation, achieved a Level 4 BBBEE contributor status, independently verified by Empowerlogic Pty Ltd.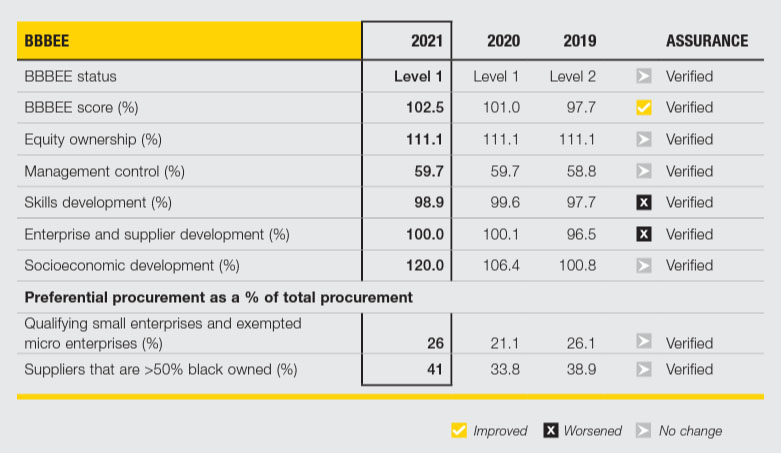 Ownership
Murray & Roberts has a diverse shareholding base of 6 919 South African and international shareholders. The economic interests of black shareholders in the Group is 59.53% with black women having a 17.13% shareholding.
Management Control and Employment Equity
In addition to social and economic advancement, we understand that a transformed workforce enhances our competitiveness and we promote the principles of inclusiveness which value the contribution of each and every employee irrespective of race, gender or creed. To give effect to our transformation and employment equity commitment, our policies and programmes in South Africa seek to achieve a staff profile that broadly reflects the local population demographics.
Enterprise and Supplier Development
We support the belief that small, medium and micro enterprises are central to job creation and economic growth. Our targeted interventions identify and assist new vendors and give preference to BBBEE-compliant vendors. The South African operation's procurement expenditure for FY2017 amounted to around R6,2 billion (FY2016: R6,8 billion) and the preferential procurement as a percentage of this spend was 99.0% (FY2016: 97.7%).
For more information on Transformation and Local Economic Development see our Sustainability Report.