TRANSFORMATION AND LOCAL ECONOMIC DEVELOPMENT
B-BBEE in South Africa
We achieved a Level 3 contributor status against the amended construction sector code.
The economic interests held by black shareholders in our South African operations is 56.78% with black women holding 20.62%.
Targeted interventions identify and assist small, medium and micro enterprises ("SMMEs") which are central to job creation and economic growth in South Africa. Where we can, we procure services from SMMEs to aid their development. Other initiatives include early payment for SMME suppliers, preferential credit terms for buyers and administration support for certain service providers, suppliers and clients. More broadly, preference is given to B-BBEE compliant vendors.
Other initiatives in progress to support transformation in South Africa include:
Murray & Roberts Cementation is developing a B-BBEE underground mining contractor at Kalagadi.
Industry training is delivered to unemployed members of local communities.
The Power & Water platform is establishing B-BBEE partnerships in power maintenance, transmission and distribution services and water solutions. Skills and enterprise development are key focus areas as Murray & Roberts Power & Energy ("MRPE") works towards a Level 2 rating.
The Murray & Roberts Khula Nathi Enterprise and Supplier Development Experience, in partnership with Raizcorp, invests in developing talented entrepreneurs. The programme assists them to grow successful businesses, create employment and develop their capacity to participate in MRPE's supply chain.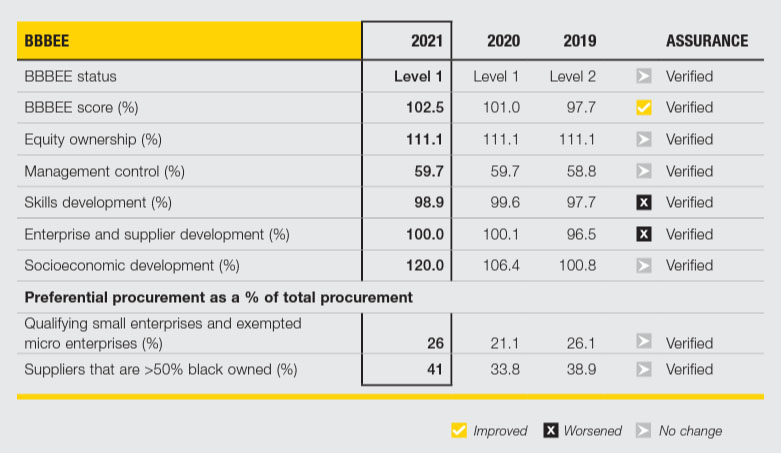 For more information on Transformation and Local Economic Development see our Sustainability Report.