Safety, Health and Wellness
Safety
Our main safety goal is to achieve Zero Harm to our employees, service providers and the communities in which we operate. Advancing our safety programme is an ongoing imperative, and during FY2017 we achieved record performance with the following highlights:
A RECORD-LOW LTIFR OF 0.52.
SIGNIFICANT REDUCTION IN SERIOUS INJURIES.
OHSAS 18001 CERTIFICATION ACROSS ALL OPERATIONS.
EXTENDED THE MAJOR ACCIDENT PREVENTION PROGRAMME TO THE MAJORITY OF OPERATIONS.
OIL & GAS ACHIEVED AN INDUSTRY LEADING PERFORMANCE OF 1,5 YEARS WITHOUT A LOST TIME INJURY.
Our approach to health and safety
Our approach to health and safety management is informed by our extensive experience in the engineering and construction industry. It encompasses learning from independent experts and implementing their recommendations, undertaking risk assessments and audits, investigating incidents and benchmarking against our industry peers and clients. Our HSE Framework outlines the role, responsibility and accountability of the corporate office and platforms operations.
The framework focuses on:
Mandated Group policies, standards and performance expectations;
Visible felt leadership, line accountability and operational discipline;
Learning and sharing; and
Assurance through internal and independent assessments.
For more information on our safety management approach, safety performance and developments during the year, see our Sustainability Report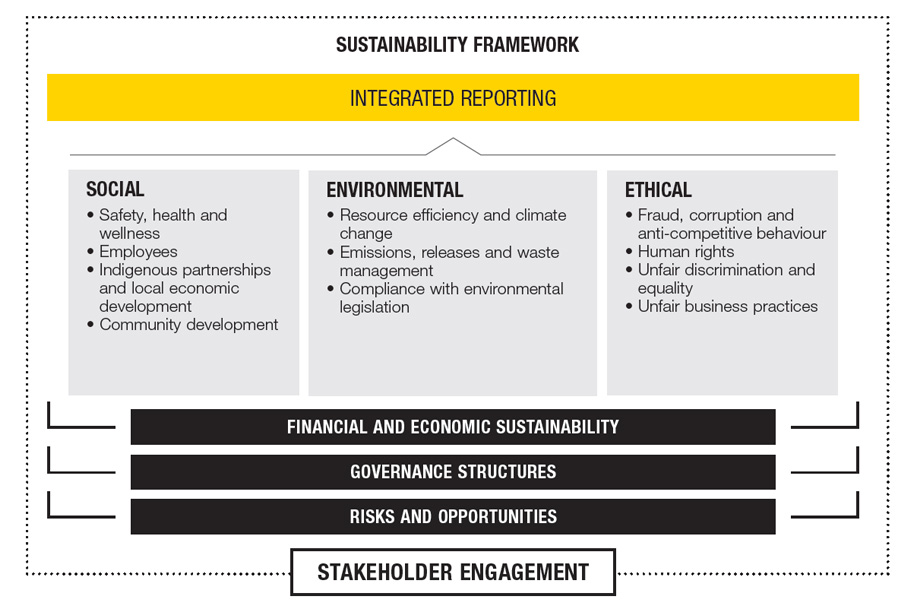 Employee Health and Wellness
Our integrated health and wellness programme seeks to prevent illnesses and proactively manage identified health conditions. We have made good progress in better understanding and managing the occupational health and wellness risks that pertain to our various operations, and our Group-wide standards set the minimum requirements to identify and manage these risks.
We aim to ensure the wellbeing of our employees by understanding workplace risks and personal risks through qualitative and quantitative risk assessments, periodic medical surveillance, access to our free Employee Assistance Programme and the primary healthcare programme which includes medical aids and primary healthcare clinics at selected sites. Health and hygiene assessments over the last three years point to noise, ergonomics, vibration, thermal stress, airborne pollutants and fatigue as our material occupational health hazards; and TB, HIV and non-communicable diseases as material lifestyle risks. Various measures, including engineering controls to eliminate hazards, awareness and training and personal protective equipment are in place to manage these risks. The impact of our control measures is evaluated through follow-up hygiene measurements and assessments, medical surveillance and biological monitoring of exposed employees.
For more information on our employee health and wellness performance, see our Sustainability Report.