HEALTH AND SAFETY PERFORMANCE
Our approach to health and safety
We remain firm in the belief that Zero Harm is possible, notwithstanding the challenging environments in which our employees operate. Achieving safe and injury free operations is a key strategic objective and our approach to achieving this goal is premised on our extensive operational experience in our markets. We work towards continuous health and safety improvement by implementing recommendations from independent experts, better understanding our exposure using risk assessments, implementing lessons learnt from audits and incident investigations and benchmarking ourselves against clients and industry peers.
These recommendations and lessons learnt are incorporated in the Group health, safety & environment framework, which outlines the role, responsibility and accountability of the corporate office and platform operations in managing our material health and safety issues.
All our businesses are required to implement health and safety plans that prioritise the requirements set out in the framework. Businesses report their progress regularly to the executive committee and the health, safety & environment committee, a subcommittee of the Board.
All incidents are thoroughly investigated to determine root causes and corrective measures are implemented. Major incidents are reviewed by the executive committee and the health, safety & environment committee. Lessons learnt are shared across the organisation.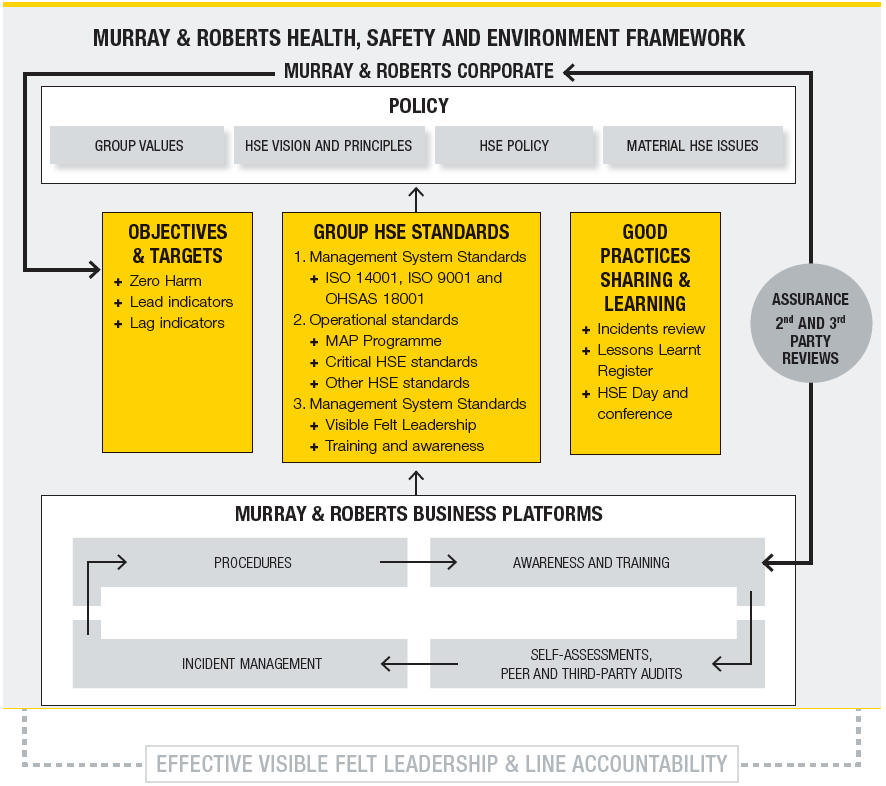 Our Priorities
Safety indicators
We track a number of lead and lag indicators to identify emerging trends that require management attention before they lead to serious incidents or injuries. Lead indicators include visible felt leadership ("VFL") engagements, high potential incidents and hazards, compliance with critical safety standards, near misses, work stoppages and audit findings.
Group HSE standards
The Group HSE standards set high-level requirements that must be implemented by all businesses to manage common material health and safety risks.
Visible felt leadership and accountability
Our leaders are expected to demonstrate a commitment to safety that is visible and felt throughout the organisation. This means they are required to set high safety standards, lead by example, empower employees to perform their work safely, recognise good performance and hold direct reports accountable for safety performance. These attributes are articulated in our Safety Leadership Pledge, which every leader commits to live and abide by. Safety is a key performance indicator for all leaders and is assessed in the performance management process.
Major Accident Prevention ("MAP") Programme
The MAP Programme focuses on identifying and implementing the critical controls required to prevent major accident events ("MAE"). Operational line managers are responsible for ensuring that these critical controls are implemented and verified onsite before high-risk activities are undertaken and every time employees are exposed to MAE hazards. The MAP Programme provides verification in real time.
Continual improvement through learning and sharing
We continually develop, enhance and share effective and innovative interventions through various initiatives and from a variety of sources, including our diverse operations, clients, industry peers, audits and networking forums. We also drive the use of technology advances to reduce workforce exposure to safety risks.
Integrated Health and Wellness Programme
Our integrated Health and Wellness Programme aims to prevent illnesses and proactively manage identified health conditions using the following mechanisms:
Periodic qualitative and quantitative risk assessments and monitoring to identify and understand health risks in our workplaces.
The Occupational Medicine Programme, which uses pre-employment, periodic and exit medical examinations to detect workplace-related diseases early on and manage them to prevent further deterioration.
Screening and testing programmes to manage communicable and non-communicable diseases.
Healthcare education and awareness initiatives, including Wellness Days at project sites to encourage healthy lifestyle choices.
The Employee Assistance Programme, which provides counselling support and advice to employees and their immediate families.
For more information on our health and safety performance, see the online Sustainability Report