GROUP CORPORATE SOCIAL RESPONSIBILITY
Murray & Roberts is committed to uplifting the communities in which we operate by responding to local circumstances and social needs. Guided by our Values, we ensure that each initiative adds value and reaches the intended beneficiaries.
Corporate Social Responsibility ("CSR") initiatives are managed through two trusts:
The Letsema Khanyisa Employee Benefits Trust ("Letsema Khanyisa"); and
The Letsema Sizwe Community Trust ("Letsema Sizwe").
At a platform level, companies support local host communities through various corporate social investment ("CSI") initiatives. Employees are also encouraged to play an active role in their communities by volunteering and fundraising.
DEVELOPING THE NEXT GENERATION
Murray & Roberts prioritises education and skills development funding initiatives from early childhood to postgraduate education. Education is a powerful change agent when it comes to transforming lives and affecting social stability, as well as in relation to long-term economic growth. Investing in education is investing in the future and it sets the foundation for sustainability. We are proud to present a selection of global initiatives that demonstrate our commitment to positive social change.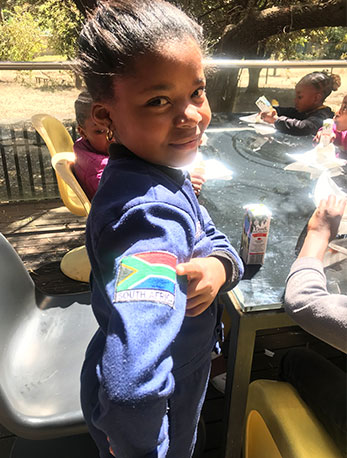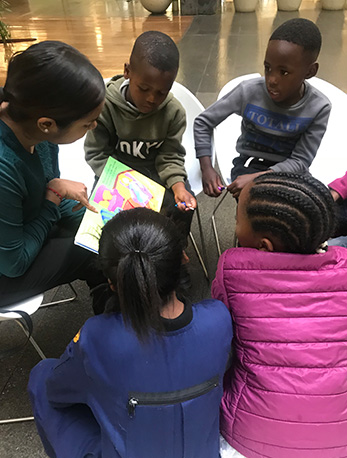 FINANCIAL SUMMARY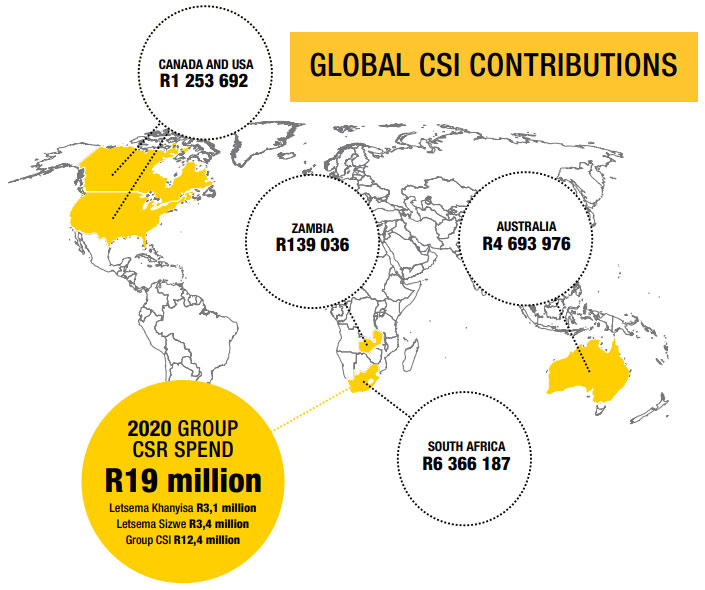 LETSEMA KHANYISA
The Letsema Khanyisa Trust was established in 2006 to support the dependants of qualifying employees, enabling them to access quality secondary and tertiary education. In 2021, we will extend funding from grade R as we believe that those formative years impact the development of social, cognitive, emotional and physical skills. Gaps in these areas affect the child's ability to cope academically in their senior years. The scheme provides the learner with financial support, paying for tuition, textbooks, transport, school uniforms and stationery. Furthermore, the learner is supported with professional career guidance and their progress is monitored throughout the academic year. Over the past 14 years, an investment of R72,3 million has been made in support of 1 412 learners, 643 of whom were afforded a tertiary qualification.
LETSEMA KHANYISA ENABLING DREAMS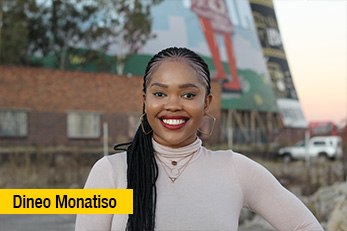 TELL US ABOUT THE STUDIES YOU DECIDED TO PURSUE AND HOW THE EXPERIENCE HAS AFFECTED YOUR LIFE.
I was fortunate to secure a Letsema Khanyisa bursary to study fashion design, even though it wasn't listed among the fields of study that qualify for funding. Not only did I learn the skills needed to succeed in my chosen career, but my studies also inspired me to adopt an entrepreneurial mindset. I decided to start my own business which I'm now ready to expand.
WHAT ARE YOUR CAREER GOALS?
My career goals are to own a successful fashion company and to be recognised as a young black female achiever in South Africa. I want to create jobs for other people in this way so that we can take care of our families and contribute to a better economy.
WHO HAS BEEN A ROLE MODEL FOR YOU?
My mother. She made sure that I got the best opportunities through the education I received. This has enabled me to become an independent thinker, to strive for excellence and go far beyond my humble beginnings.
WHAT PERSONAL ACHIEVEMENT MAKES YOU PROUD?
Being able to register a company immediately after graduating, and working hard to get it up and running despite all the obstacles.
WHAT WORDS OF ADVICE WOULD YOU GIVE YOUR YOUNGER SELF?
I would tell my younger self this: "Always travel the hard road as the results will exceed your expectations, and never let the fear of striking out keep you from playing the game."
LETSEMA SIZWE
The Letsema Sizwe Trust has supported a variety of interventions through long-standing partnerships with reputable development organisations. Our focus is primarily on education and we have transformed the lives of many disadvantaged learners since 2006.
TOMMOROW TRUST
Tomorrow Trust is a proudly South African non-profit organisation. It was founded in 2005 to provide holistic support to orphaned and vulnerable children, helping them to attain a comprehensive and integrated education. The trust works with government, business and ordinary South Africans to realise its goal of a more inclusive society that produces conscientious and holistically educated leaders. Murray & Roberts has partnered with Tomorrow Trust for the past seven years, sponsoring its Saturday school and holiday programmes. To date, we have invested R3 782 216 in the trust, helping 150 learners pass matric, with 71% of them achieving a Bachelor's pass. Many of the learners enter the programme averaging 40%; Tomorrow Trust helps these learners improve their academic results and, by extension, their long-term future prospects.
TECHNOLOGY RESEARCH ACTIVITY CENTRE
Technology Research Activity Centre ("TRAC") South Africa is a national, non-profit Physical Science intervention programme spearheaded by Stellenbosch University. Mobile science laboratories, along with qualified science teachers, are provided to under-resourced schools that are situated in impoverished communities. The results have been astounding: learners who used to struggle to understand Physical Science and fail the subject are now excelling and qualifying for further studies in the fields of science and technology. We have collaborated with TRAC for nine years. During this time, we have assisted 7 604 matric learners at an investment totalling R22 408 645. Murray & Roberts is currently sponsoring two laboratories – one in Kuruman and the other in Musina. Two of our large underground mining projects are located in these towns.
JACK CHEETHAM AND LETSEMA AWARDS
Letsema Sizwe supports the development of sport in both able and differently abled young people through the annual Jack Cheetham and Letsema Awards. Sport is a powerful enabler for young people. It motivates them to change the trajectory of their lives by channelling their energies into various activities, and in so doing, helps them understand the value of discipline. These behaviours, learnt on the sports field, have a positive impact on their academic performance. Often, sports organisations provide a safe haven for young people against drug use, gangsterism and teenage pregnancy. Our belief is that by instilling hope in the youth, they will become agents of change in their communities.
For more information on the awards and the past winners please visit www.jclawards.co.za or visit the photo gallery.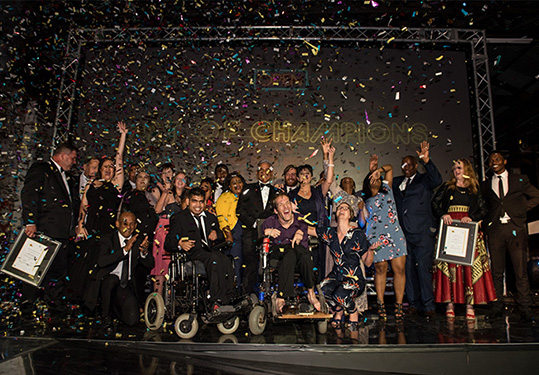 NIPHO MADISA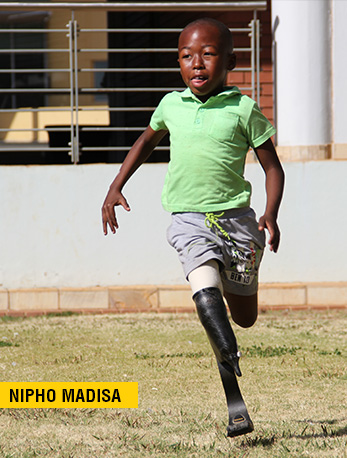 Nipho was born with congenital hemimelia or longitudinal fibular deficiency. His parents took him to the Steve Biko Academic Hospital's Congenital Birth Defect Clinic. This is where he met orthopaedic surgeon Professor Ruan Goller and prosthetist Johan Snyders. Their intervention and the support of Jumping Kids meant that Nipho could undergo an amputation and be fitted with his prosthetic at an early age. Despite experiencing deep-seated prejudice because of his disability, Nipho was able to play with the kids in his community. Nipho is a very active child, and to give him the start he needed, Jumping Kids sent him to a mainstream crèche and, later on, to a mainstream school. Because he is smart and knows how to read, the other parents sent their children to play with him — because they could learn from him. Nipho is currently in grade 1, loves music and can't wait to learn to swim. Being in a better school, Nipho received daily schoolwork and support during lockdown — unlike the other children in his community. As a result, his home has become a learning centre for the local kids. His status and that of his family has improved: they are no longer the family with the "disabled kid"; they are the family with the smart kid who has a 'robotic' leg. Their voices are heard and they are included in the community.
CORPORATE SOCIAL INVESTMENT
Companies across the Group work with and invest in their local communities to provide sustainable solutions and lasting benefits.
GRADE 12 LEARNER SUPPORT INITIATIVE
In response to the COVID-19 pandemic, a grade 12 support programme was developed to assist our Letsema Khanyisa learners as well as the Vorentoe Running Academy learners. Learners found themselves at home without any formalised online classes. Most of them had no smart devices and data was a constraint. Anxiety was setting in as they had missed so much classroom time. Murray & Roberts stepped in and came up with this holistic solution to the value of R255 000:
Each learner (34 in total) received a new Lenovo tablet with 10 gigabytes of data per month;
Face masks;
Learners were given access to the Boston City Campus online classroom, which provides curriculum support and assessments;
Each learner was paired with a Murray & Roberts mentor to provide guidance and support;
Literature and poetry workbooks; and
Saturday workshops were held to give learners additional support and tuition.
"The Saturday workshop that we had at Murray & Roberts was the best lesson ever and I enjoyed every moment of it. I learned a lot and could speak out my answers without anyone laughing at me. It was very useful to me and I enjoyed the Fiela se Kind lesson. I hope that they continue to help other grade 12s."
– Oreneile Senna, grade 12 learner and member of the Vorentoe Running Academy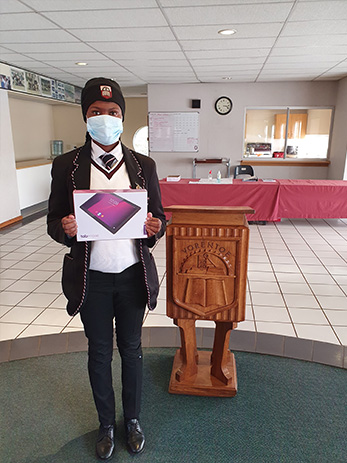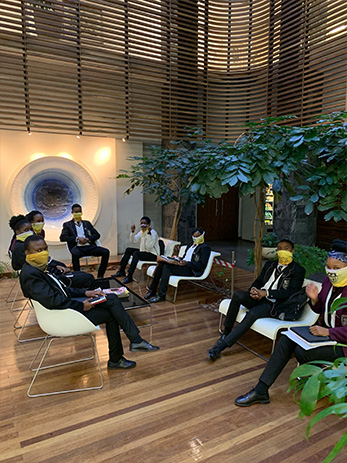 Contact Details
+27 11 456 6289
csr@murrob.com
Brenda Mantje