MADE FOR MORE HOSTS SA PARA SURFING CHAMPIONSHIPS

Small, consistent and contestable conditions made for an incredible two-day event at the iconic New Pier, in Durban, for the 2022 TyreLife Solutions SA Para Surfing Championships.

Although the forecast was looking grim, the weather held up nicely and contestants were blessed with a beautiful day for the competition on Saturday and a chilly day, but with the rain holding off for most of the morning, on Sunday.

Organiser and host of the event, local NPO, Made for More's Founder, Julia Van Zyl, said, "It is our biggest joy and privilege to host the country's best adaptive surfers and to witness the sport growing year by year. Each year, the vibe on the beach grows, the smiles get bigger and the passion, skill and dedication of the athletes more palpable. For us, it's so much more than just surfing - it's access, inclusion, opportunity and mostly it's belonging - we really are a close-knit community."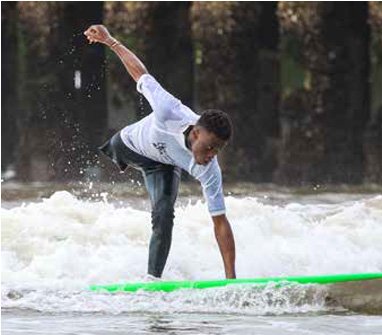 A total of 50 surfers (34 men and 16 women) competed from four provinces around the country, including Western Cape, Eastern Cape, Gauteng and KwaZulu-Natal. In the end, it was the home province, KwaZulu-Natal, which took top honours, with Western Cape in second and Eastern Cape and Gauteng in third and fourth, respectively.

From this national event, the South African team will be selected by Surfing South Africa to go to the ISA World Para Surfing Championships in Pismo Beach, California, USA, in December this year.

The Prone Assist division is always the biggest and most hotly contested division at Nationals and this year was no different, with many new development surfers coming up the ranks from grassroot programmes in both Cape Town and Durban.

Coach and water assistant, Wendy Heslop, said, "I can honestly say that this weekend was the highlight of my year and our monthly Made for More Surf sessions are at the top of my list, when my heart is happiest. The heart, passion, organisation and time Made for More put into last weekend showed and the leadership is a great example of service and love. I am blessed to be a part of it all."

The feeling and incredible vibe on the beach witnessing the adaptive surfing community both in and out of the water was truly humbling, emotional, inspiring and full of joy.

Made for More was the winner at the 2018 Jack Cheetham and Letsema Awards. It is an organisation that empowers and equips differently-abled athletes to pursue a sporting career across a diverse range of sports.