GREG MILLER
MANAGING DIRECTOR, RUC CEMENTATION MINING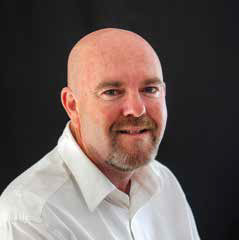 WHERE DID YOU GROW UP?
I grew up in Wycheproof, a small town in Victoria located 277kms north-west of Melbourne.

WHAT WAS YOUR FIRST JOB?
I have had plenty of non-paying jobs on farms and in the family business but my first paying job was building steel grain silos.

WHAT WAS YOUR CAREER JOURNEY TO WHERE YOU ARE NOW?
I graduated from the University of Ballarat in 1994, after which I worked as a graduate at several mines for National Mine Management in Kalgoorlie, Western Australia. National Mine Management was bought by Macmahon in 1996 and I continued my career with them, progressing from a graduate to site engineer, project manager and ultimately executive general manager with a tenure of 21 years of service. In 2016, I moved into consulting and in 2018 joined RUC as general manager.

WHAT CAREER MILESTONES ARE YOU MOST PROUD OF HAVING ACHIEVED?
The few that stand out include a project under my leadership that started with 40 employees and one jumbo and grew successfully to 180 employees and seven jumbos. The INSEAD advanced management programme which I completed in France was also a highlight. I am also proud of my time at National Mine Management and Macmahon and progressing from a graduate to executive general manager and of course my appointment as managing director of RUC.

WHAT ARE SOME OF THE CHALLENGES YOU FACE IN YOUR CURRENT ROLE?
The immediate challenges are COVID-19 and the ever-changing restrictions and mandates that impact our supply chains and the movement of employees on our projects. The pandemic has also exacerbated the shortage of skilled employees and we are challenged to upskill people who are new to the mining industry. I am also challenged to fulfil the role of managing director in my own shoes instead of walking in my predecessor's shoes.

GREG MILLER MANAGING DIRECTOR, RUC CEMENTATION MINING
The Mining platform has seen two of its stalwart leaders retire and Robust Magazine becomes acquainted with the new incumbents. Greg Miller is the new managing director at RUC Cementation Mining and Eric Smith takes the helm at Cementation USA.

WHAT EXCITES YOU ABOUT THE FUTURE IN YOUR INDUSTRY?
Technology is rapidly evolving and over the next 10 years I am excited to see what can and will be adapted to the mining industry.

WHAT IS THE BEST PIECE OF CAREER ADVICE YOU'VE RECEIVED?
• Make money and don't hurt anyone.
• Be decisive, and if it's the wrong decision fix it quickly.
• Roughly right is better than exactly wrong.

WHAT ARE SOME OF YOUR INTERESTS OUTSIDE OF THE OFFICE?
I enjoy spending time with my wife and four children. Currently, I am working on restoring a 1973 Rambler Matador and enjoy tinkering with similar projects in the shed. Occasionally I hit the odd tennis and golf ball and spend time with mates playing darts and poker.

WHAT WOULD PEOPLE BE SURPRISED TO KNOW ABOUT YOU?
The only reason I went to university and became a mining engineer is because in years 11 and 12 of school I was unable to get an apprenticeship as a plasterer, which at the time was my dream job! Sounds crazy now.
ERIC SMITH
PRESIDENT, CEMENTATION AMERICAS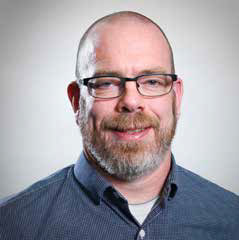 WHERE DID YOU GROW UP?
My father was involved in oil and gas exploration. As a result, my family moved around a lot. I spent my childhood in the United States between Colorado, Montana and Texas. While all of the moving was a bit disruptive growing up, it did prepare me for my career in the mining industry, where I have lived in many different places, and have learned to appreciate the local cultures and find enjoyment wherever I lived.
WHAT WAS YOUR FIRST JOB?
My first job in the mining industry was as a surveyor for an underground longwall coal mine as part of a CO-OP programme with my university. It was quite a learning experience. The mine set world records for production, but at the same time, averaged multiple lost-time injuries every month due to poor safety culture and the sole focus on production. I was struck by the fact that the only time safety was discussed was in the safety meeting and when everyone went underground it was ignored and production was the only thing discussed with the crews. It was a great lesson for me to see how management sets expectations (whether intentionally or unintentionally) more by what conversations they have in the workplace than what is discussed in meetings.
WHAT WAS YOUR CAREER JOURNEY TO WHERE YOU ARE NOW?
When I graduated from university, the underground mining industry was very slow, so I ended up working for a large US-based heavy civil contractor that did public works underground projects. It was a great learning experience to see the rigour that is required to successfully tender and execute high-risk public works contracts. My first mining industry job after university was working for an underground palladium/ platinum mine in Montana, where I worked both in project and mine operations management. I then went to work for Freeport McMoRan in Indonesia when they were in the process of building three new underground mines. While underground mining projects have similar challenges throughout the world, the challenge of effectively working with multicultural teams was something that was a valuable learning experience that I have been able to apply ever since. After four years in Indonesia, I returned to North America to manage a twin ground freeze shaft sinking project with another contractor in the Canadian potash industry. In 2012, I made the move to Cementation, where I have worked ever since.
WHAT CAREER MILESTONES ARE YOU MOST PROUD OF HAVING ACHIEVED?
I am thankful for all of the career opportunities that I have had prior to joining Cementation. However, in order to learn other aspects of the industry and to advance my career, I eventually had to change companies. After joining Cementation, I was privileged to be part of a company that not only had a great culture, but provided opportunities for me to be a part of some very challenging projects and further my knowledge. I am very proud of the accomplishments of the Cementation teams that I have been a part of, including:
• Significantly improving our safety performance and the way we manage risk, with multiple projects and business units achieving zero lost-time injuries for years at a time.
• Executing projects while partnering with local and indigenous stakeholders.
• Completing some of the most technically challenging shaft projects in North America.
• Achieving a highly skilled and efficient mechanised lateral development methodology that we have utilised to become the contractor of choice for very discerning clients.
WHAT ARE SOME OF THE CHALLENGES YOU FACE IN YOUR CURRENT ROLE?
While safety in the mining industry has dramatically improved since my early career working in the coal mines, we have seen a plateau in our industry's ability to further reduce injuries and fatalities. There are a lot of reasons for this, but ultimately there is still a lot of reliance on administrative controls and more work is required to provide better protection of our employees from hazardous energy. A related challenge is the relatively slow pace of technological advancement of our industry, which is also being compounded by a high rate of retiring experienced professionals with less people entering the industry.
WHAT EXCITES YOU ABOUT THE FUTURE IN YOUR INDUSTRY?
With challenges come opportunities! I am very excited to see some of the innovations that have come out of not only Cementation Americas, but also some of our partner companies within the Murray & Roberts mining platform, such as the remote operated bogging technology that RUC and Insig have been developing. As the mining platform grows, we will have the ability to combine our innovation efforts to provide the best technological solutions to keep our employees safe and to provide the best service for our clients.
WHAT IS THE BEST PIECE OF CAREER ADVICE YOU HAVE RECEIVED?
"Take your job seriously, but never take yourself too seriously" was sage advice that I received early on from one of my mentors. This advice has served me well, especially since mostly everything we do in our industry is a result of teamwork.
WHAT ARE SOME OF YOUR INTERESTS OUTSIDE OF THE OFFICE?
We are fortunate to live in one of the most beautiful areas in the western United States, with large tracts of public land and some of the most stunning high desert scenery in the world. My wife and I try to get out into the desert regularly to camp, hunt, explore and enjoy the beauty of the desert. We also raise Italian mastiffs (Cane Corso), which are extremely spirited dogs, so they keep us very busy and active.
WHAT WOULD PEOPLE BE SURPRISED TO KNOW ABOUT YOU?
I currently hold the rank of purple belt in the martial art of Brazilian Jiu Jitsu. I started training over six years ago and have found it to be a great way to not only stay physically fit, but to also manage stress and overall mental health. In the evenings after work, I will most likely be found training in the dojo.