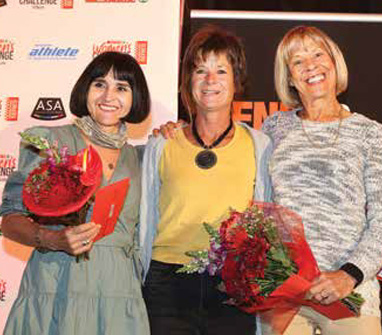 IMPROVING ON ENGINEERED EXCELLENCE!
The Murray & Roberts Running Club has refined it even more over the past few months: "Fast, victorious Engineered Excellence." The Running Club's results confirms this statement.

At the Nedbank Runified 50km race in the Eastern Cape in May last year, Charne Bosman stormed to a new 50km world's best time for the distance in a superfast three hours 24 minutes and four seconds for the 45 to 49 age group. The 2016 Comrades Marathon champion has won virtually every race that she has competed in for the last 12 months and started off her year with yet another comfortable victory in the 2022 Dischem race on our own 'doorstep' in Bedfordview. In the men's race, Olympian Sibusiso Nzima was a close second and Philani Buthelezi, the defending champion, third.

We have produced more than a hundred wins in 2021, but very few were as sweet or rewarding as the diminutive, fast KwaZulu-Natal runner, Tayla Kavanagh. At the national 10km championships in Durban, Kavanagh stormed to yet another personal best and her first senior national title in 32 minutes and 10 seconds. Perennial top placer Kesa Molotsane also kept the flag flying high in third place, just 41 seconds further back.

The 20-year-old clocked the third fastest time ever by a South African in a women's only race and this barn-storming run catapulted her up into fourth on the South African all-time list with lofty company, Olympians Elana Meyer, Colleen de Reuck and Irvette van Zyl, ahead of her.

The 2021 Spar Women's Race 10km Challenge series was a complete performance from the black and yellow. The Club had no less than seven athletes out of the top 25 in the final Grand Prix standings over all six races in the series. That was topped by three category wins and the coveted Club Points Grand Prix Challenge victory! In the grand master category (the over 60s) Judy Bird racked up a new national mark for the age group (twice) breaking the 17-year-old mark when she stopped the clocks in 40:09 in the Mother City and won all six races in a row!

Free Stater, Kesa Molotsane won a whopping R90 000 for her runners-up spot in the Grand Prix, after a superbly consistent showing taking five Top 5 places, finishing on 129 points. That also meant that we paid out top-dollar incentives to all our top performers.

The Murray & Roberts Running Club and the Vorentoe Running Academy produced a bag full of fine wins, podium places and dominant displays right from when racing continued again after the enforced COVID-19 layoff. The Vorentoe squad produced more than 20 podiums and many victories in the Gauteng junior athletic championships on the track. Later in the year, there were more than a half-a-dozen National Championship wins, not to mention their superb running in the cross-country races that they contested, which also resulted in more than 30 victories.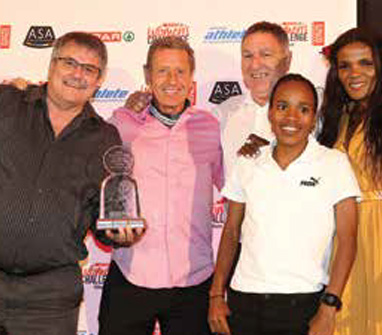 Our fastest marathoner in 2021, Philani Buthelezi (2:13), leads the men's challenge and in the 2021 Sanlam Cape Town marathon our statistics were impressive. No less than 10 of our athletes ran under two hours and 30 minutes, spearheaded home by David Manja's 2:15 for 19th place. Thulani Magagula was the second veteran (over-40) home in 2:26. The magical sub-three-hour mark was bettered by 37 runners in the black and yellow, most notably our chairman, Ed Jardim, who shattered his personal best by more than 35 minutes to record his first finish under the mark in 2:54! It seems if you want to become fast, manage an elite club and then train with them.
In Cape Town there were 11 of our women under the three-hour mark and the black and yellow had a remarkable seven women out of the top 10 veterans category, led home by Simone Verster who ran a sparkling 2:52.
Extreme marathoner, Richards Bay's Nontu Mghabi completed the demanding 250km Marathon Des Sables in 45 hours, making her one of very few runners on the planet who has knocked off this gruelling race, as well as completing seven marathons on seven continents. She is also one of only a handful of South Africans who have completed this monster six-day race. It had been a superb year and we will continue to refine fast, victorious, Engineered Excellence.